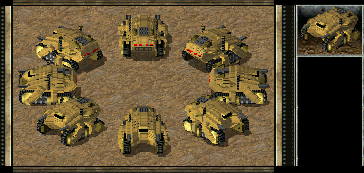 Cost: 1550
Prerequisite: Warfactory, tech center, command center
Role: APC, base breaching, infantry protection
Strengths: Extremely heavy armor, carry capacity of 10
Weaknesses: Slow speed, low damage

Armadillo Heavy APCs are used by GDI when they need to be absolutely sure that the transported materials or personnel reach their target intact. These massive, heavily armored vehicles can survive bombing raids and anti-armour fire for a very long time, while being virtually impervious to lighter weapons. In case of an ambush, they are armed with double anti-armour cannons, that while aren't all that powerful, can destroy even heavier targets in prolonged fire. Many GDI commanders use these as breaching vehicles in base assaults, as they can soak up much of the incoming fire. The Armadillos also work as bunkers for infantry to take refuge in.