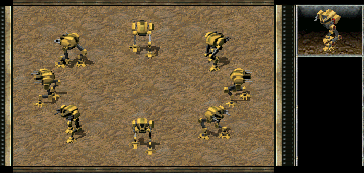 Cost: 1100
Prerequisite: Warfactory, tech center
Role: Powerful anti-air
Strengths: Very effective and long range anti-air weapon
Weaknesses: Can only target air units, poor armor

GDI commanders often use the Hover MLRS units as mobile air defence due to their multi-purpose role, great mobility and relatively low cost. Reports from the field indicated that while often enough, these Hover units' effectiveness was reduced when the enemy had a large air presence that could simply out-gun them. The Helios Anti-air Walker has been designed for these situations. The Helios is armed with powerful long range shock wave cannons that can tear enemy aircraft down before they have a chance to fire. The drawback of the weapon system is that design limitations allow it to fire only on air targets. This and the unit's poor armor leave them completely helpless against ground units, which is why they should always be guarded by other units.